Why ZEPATIER – For all stages of CKD
ZEPATIER®▼ 

(elbasvir/grazoprevir)
For all stages of CKD
Prescribing Information (Great Britain) & Prescribing Information (Northern Ireland) [External links
Power to cure* in patients with chronic kidney disease (CKD)

ZEPATIER®▼ (elbasvir/grazoprevir) achieved 99% SVR overall for G1 patients with CKD, with or without cirrhosis1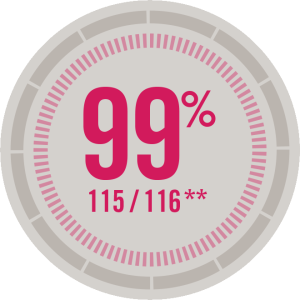 No dosage adjustment of ZEPATIER is necessary in patients with mild, moderate or severe renal impairment or who are on dialysis2
No considerations with phosphate binders2
C-Surfer: A Phase 3, randomised, double-blind, placebo-controlled trial in G1 infected treatment-naïve subjects or those who have failed prior therapy with IFN or PEG-IFN +/- RBV with or without compensated cirrhosis, with chronic kidney disease (stage 4 and 5 including haemodialysis patients). Randomised 1:1 to ZEPATIER for 12 weeks (immediate treatment group; n=122) or placebo (deferred treatment group; n=113). Primary efficacy endpoint was SVR12 after end of therapy. 1
HCV infected patients with severe renal impairment – a difficult to treat population3
Therapeutic challenges
Altered clearances4

Renal dysfunction may alter renal clearance, impacting elimination of some drugs

Increased risk and limited data1

Chronic hepatitis C virus (HCV) infection in patients with Stage 4 or 5 CKD increases the risk of death and renal graft failure
Patients with chronic HCV and Stage 4 or 5 CKD have been historically underserved due to lack of clinical data supporting HCV treatment for these patients

Cumulative incidence of CKD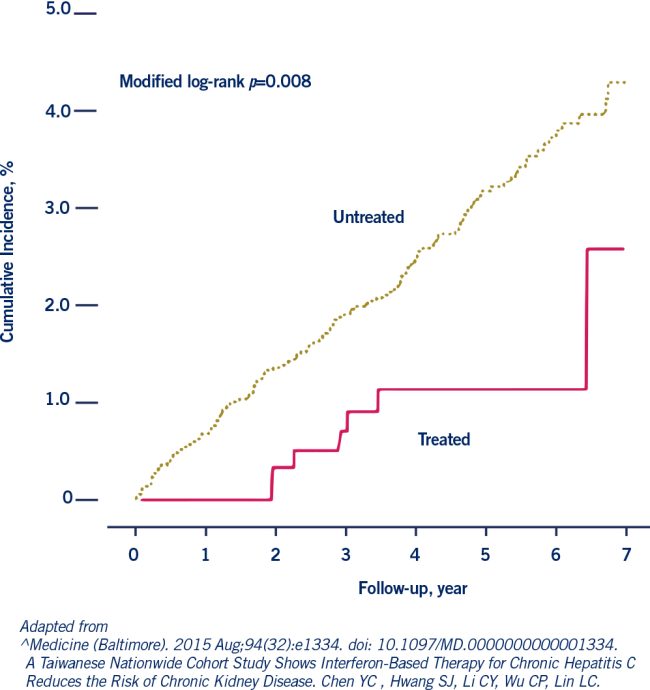 *Cure defined as cure of HCV infection = sustained virologic response (SVR), the primary endpoint in all studies, was defined as hepatitis C virus (HCV) ribonucleic acid (RNA) less than the lower limit of quantification (LLOQ) (≤15 IU/ml) at 12 weeks after the cessation of treatment6
** In the combined immediate treatment group and intensive pharmacokinetic population
Related content
References
Roth D, Nelson DR, Bruchfeld A, et al. Grazoprevir plus elbasvir in treatment-naïve and treatment-experienced patients with hepatitis C virus genotype 1 infection and stage 4–5 chronic kidney disease (the C-SURFER study): a combination phase 3 study. Lancet. 2015;386:1537–1545.
ZEPATIER Summary of Product Characteristics.
Moorman AC et al. Prevalence of Renal Impairment and Associated Conditions Among HCV-Infected Persons in the Chronic Hepatitis Cohort Study (CHeCS). Dig Dis Sci. 2016;61;2087-2093.
Lea-Henry TN et al. Clinical Pharmacokinetics in Kidney Disease: Fundamental Principles. Clin J Am Soc Nephrol. 2018;13;1085-1095.
Goodkin DA et al. Mortality, Hospitalization, and Quality of Life among Patients with Hepatitis C Infection on Hemodialisys. Clin J Am Soc Nephrol. 2017;12:287-297.
European Association for the Study of Liver. J Hepatol. 2018;69;461-511..
Supporting documentation
Prescribing Information (Great Britain) & Prescribing Information (Northern Ireland) 
By clicking the links above you will leave the MSD Connect website and be taken to the emc PI portal website