Patient Case Studies – KEYTRUDA in M/uR HNSCC CPS 1-19
PATIENT CASE STUDIES
Choosing KEYTRUDA (pembrolizumab) in M/uR HNSCC with CPS 1-19
Prescribing Information (Great Britain) & Prescribing Information (Northern Ireland) [External links]
Use the ⫶≡ icon to navigate through the chapters of this video. This video was filmed on 16/6/2023.
Watch Dr Caroline Brammer present 2 case studies of patients with M/uR HNSCC with CPS 1-19 that were treated with KEYTRUDA. Listen to her discuss the management of these patients, from presentation to outcomes, whilst presenting the decision-making process and supporting clinical data along the way.
COMING SOON
Considering IO before chemotherapy: A clinical perspective
Be the first to receive and access the new upcoming case studies video as soon as it is released.
Related content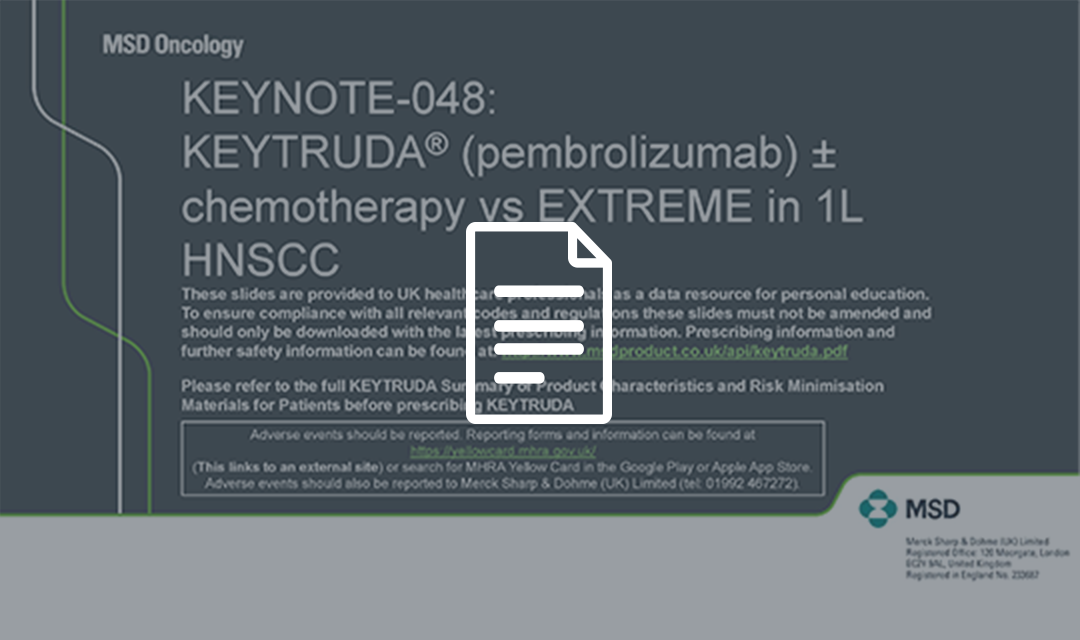 Prescribing Information (Great Britain) &
Prescribing Information (Northern Ireland)
[External links]
Abbreviations
CPS = Combined Positive Score; HNSCC = Head And Neck Squamous Cell Carcinoma; M/uR = Metastatic Or Unresectable Recurrent.
References
KEYTRUDA Summary of Product Characteristics.
Supporting documentation
Prescribing Information (Great Britain) & Prescribing Information (Northern Ireland) 
By clicking the links above you will leave the MSD Connect website and be taken to the emc PI portal website