About LYNPARZA
About LYNPARZA® (olaparib)
Great Britain Ovarian prescribing information (tablets)
Great Britain Prostate prescribing information (tablets)
Northern Ireland Ovarian prescribing information (tablets)
Northern Ireland Prostate prescribing information (tablets)
LYNPARZA (tablet) indications
Ovarian cancer
LYNPARZA is indicated as a monotherapy for the maintenance treatment of adult patients with advanced (FIGO stages III and IV) BRCA1/2-mutated (germline and/or somatic) high-grade epithelial ovarian, fallopian tube or primary peritoneal cancer who are in response (complete or partial) following completion of first-line platinum-based chemotherapy.1
LYNPARZA is indicated as monotherapy for the maintenance treatment of adult patients with platinum-sensitive relapsed high-grade epithelial ovarian, fallopian tube, or primary peritoneal cancer who are in response (complete or partial) to platinum-based chemotherapy.1
LYNPARZA in combination with bevacizumab is indicated for the maintenance treatment of adult patients with advanced (FIGO stages III and IV) high-grade epithelial ovarian, fallopian tube or primary peritoneal cancer who are in response (complete or partial) following completion of first-line platinum-based chemotherapy in combination with bevacizumab and whose cancer is associated with homologous recombination deficiency (HRD) positive status defined by either a BRCA1/2 mutation and/or genomic instability.1
Please note that this link will direct you to a third-party website
Prostate cancer
LYNPARZA is indicated as monotherapy for the treatment of adult patients with metastatic castration-resistant prostate cancer and BRCA1/2 gene mutations (germline and/or somatic) who have progressed following a prior new hormonal agent.1
Are you familiar with PARP inhibition (PARPi)?
Every day, thousands of DNA lesions occur in cells, including single-strand breaks (SSBs).2
The enzyme poly (ADP-ribose) polymerase (PARP) is a key protein required for the efficient repair of these SSBs through a mechanism known as base excision repair (BER).3
When PARP function is inhibited, cells cannot effectively repair SSBs and the unrepaired SSBs are converted to double-strand breaks (DSBs) during DNA replication, which then require repair via the homologous recombination repair pathway (HRR).2,4
Cells that are deficient in homologous recombination repair are therefore unable to repair these DSBs, ultimately resulting in cellular death.
BRCA mutations and PARP inhibition
BRCA1 and BRCA2 (collectively known as BRCA) are human genes that play a central role in repairing DNA DSBs via the homologous recombination pathway.5
BRCA mutations are an example of one type of mutation that can result in homologous recombination deficiency (HRD). The presence of a BRCA mutation in a patient is therefore another marker that can be used to select patients that might be sensitive to PARP inhibition pathway.6,7
Pre-clinical data shows that LYNPARZA inhibits PARP, which may lead to selective death of tumour cells with BRCA1/2 mutations.*†8,9
Proposed mechanism of action of LYNPARZA10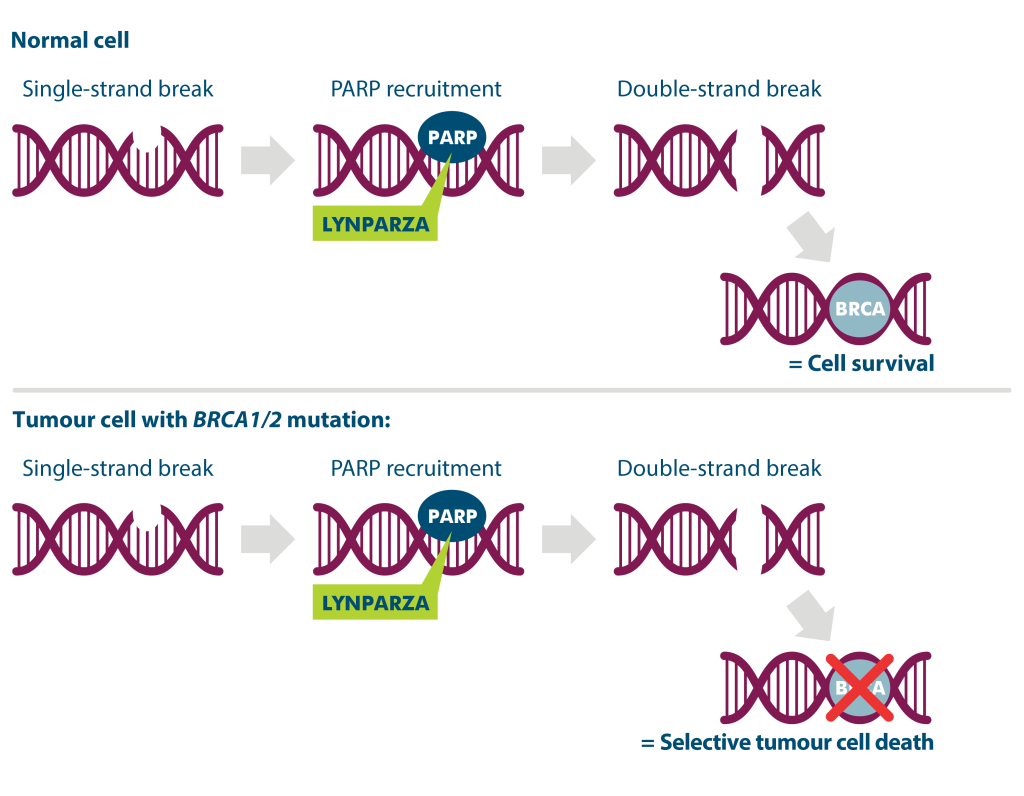 Adapted from Cerrato A, 201610
*Normal cells may also be affected by LYNPARZA.
†Based on preclinical data. The exact mechanism of action of LYNPARZA remains a subject of research.
BER = Base Excision Repair; BRCAm = BRCA-Mutated; DNA = Deoxyribonucleic Acid; DSB = Double-Strand Break; FIGO = International Federation of Gynecology and Obstetrics; HRD = Homologous Recombination Deficiency; HRR = Homologous Recombination Repair; NICE = National Institute for Health and Care Excellence; PARP = Poly (ADP-Ribose) Polymerase; PARPi = Poly (ADP-Ribose) Polymerase Inhibitor; SSB = Single-Strand Break.
References
LYNPARZA (tablets) Summary of Product Characteristics.
Aly A, Ganesan S. BRCA1, PARP, and 53BP1: conditional synthetic lethality and synthetic viability. J Mol Cell Biol. 2011;3:66–74.
Langelier M-F, Riccio AA, Pascal JM. PARP-2 and PARP-3 are selectively activated by 5′ phosphorylated DNA breaks through an allosteric regulatory mechanism shared with PARP-1. Nucleic Acids Res. 2014;42:7762–7775.
Weston VJ et al. The PARP inhibitor olaparib induces significant killing of ATM-deficient lymphoid tumor cells in vitro and in vivo. Blood. 2010;116: 4578–4587.
Pennington KP et al. Germline and somatic mutations in homologous recombination genes predict platinum response and survival in ovarian, fallopian tube, and peritoneal carcinomas. Clin Cancer Res. 2014:20; 764–775.
Ledermann J et al. Olaparib maintenance therapy in patients with platinum-sensitive relapsed serous ovarian cancer: a preplanned retrospective analysis of outcomes by BRCA status in a randomised phase 2 trial. The Lancet Oncology. 2014;15: 852–861.
Girolimetti G et al. BRCA-associated ovarian cancer: from molecular genetics to risk management. Biomed Res Int. 2014;2014:787143.
Dziadkowiec KN et al. PARP inhibitors: review of mechanisms of action and BRCA1/2 mutation targeting. Prz Menopauzalny. 2016;15:215–219.
O'Connor MJ. Targeting the DNA damage response in cancer. Mol Cell. 2015;60:547–560.
Cerrato A, Morra F, Celetti A. Use of poly ADP-ribose polymerase [PARP] inhibitors in cancer cells bearing DDR defects: the rationale for their inclusion in the clinic. J Exp Clin Cancer Res. 2016;35:179.
Supporting documentation
LYNPARZA, Ovarian (tablets) – Great Britain
Prescribing Information | Summary of Product Characteristics | Patient Information Leaflet
LYNPARZA, Prostate (tablets) – Great Britain
Prescribing Information | Summary of Product Characteristics | Patient Information Leaflet
LYNPARZA, Ovarian (tablets) – Northern Ireland
Prescribing Information | Summary of Product Characteristics | Patient Information Leaflet
LYNPARZA, Prostate (tablets) – Northern Ireland
Prescribing Information | Summary of Product Characteristics | Patient Information Leaflet